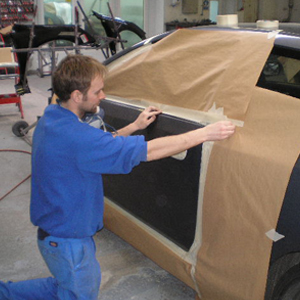 About Don Keeley Ltd
Don Keeley Ltd has been repairing cars and motor vehicle bodies since 1946.
Our Mission
Through our sophisticated range of equipment, highly skilled work force and unparalleled facilities, we aim to continue to achieve and further develop our exceptional service, which we currently believe is second-to-none. Located in Buckley Town Centre, we are ideally placed to provide a speedy, efficient and above all professional service to the insurance and motor trades.
Accident Repair Centre
Here at Don Keeley's we believe that the very latest technology is essential to achieve the exacting standards required for the repair of the latest generation of motor vehicle bodies. Therefore to ensure this, our equipment, skills and facilities are the very best available and our quality control is maintained at the highest possible level. Once a vehicle repair is completed by us, our aim is to make it undetectable even by an expert and that it should exactly match the original manufacturers' specification and finish. Insurance company approved
Inverta spot welding
MIG brazers
Boron steel welders
Extra height oven
Full dust extraction
Courtesy vehicles
Recovery vehicle
Infra-red dryers
Ecologically friendly water based paint system
Dataliner jig
Computer 4 wheel alignment available
Air Con Re-gassing