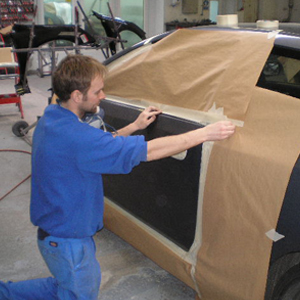 Don Keeley Ltd
Don Keeley Ltd. of Buckley was established in 1946. With over 64 years in the vehicle repair industry, we pride ourselves with our expertise and our good name. With all those years of experience and many years of new techniques and technology that we have developed, we are able to cover all aspects of car body repairs in Wrexham, Chester, Deeside, part of the North Wales coast and surrounding areas.
We have all the latest hi-tech spraying equipment including a low bake oven. All our work is to a very high standard and fully guaranteed. Estimates are free with no obligation including insurance quotations. When you've had an accident, no matter how major or minor, your expectations for getting your vehicle restored to its original condition (or better in some cases!) are high.
At Don Keeley's our aim is to meet your expectations and leave you with the peace of mind that your vehicle is in the most capable hands when it comes to auto repair and body finishing, from heavy accident repairs to cosmetic repairs on all makes and models.
From the repair of the smallest dents and scratches to major repair work, our state of the art bodyshop is set up to meet your needs. We deal with insurance companies or directly with customers / fleet operators.
Please take time to look at our web site.
If you have an immediate need for car repairs, please do not hesitate to contact our team.